February 22, 2017
During recent public history project research, I stumbled across an article and photographs by Otto M. Jones published in the Idaho Daily Statesman in 1919. The article described the "arduous task" of travelling "steep winding grades that are not inducive [sic] of much speed or tempered with any degree of safety or security."[1] The accompanying photos showed early automobiles perched on narrow rocky roads at the edge of rushing rivers. I marveled at the audacity it would take to drive along this rough road in the early days of the automobile. Yet this article was just a taste of a vast collection of articles and photographs Jones published in the Idaho Daily Statesman from 1916 through 1923 that represent adventure-packed wanderings around the state. Jones was a young Idahoan at the forefront of the automobile craze, an avid outdoor enthusiast, an early photographer, and a poetic writer. Thus, he found himself perfectly positioned to inspire and educate the country on the amazing natural wonders of Idaho. His articles and photographs undoubtedly played a role in connecting Idaho with the outdoor recreation movement.
Jones' first article and photos in the Statesman appeared in October 1916, depicting his and his wife's mountain goat hunt in the Sawtooth Mountains of Idaho. The article went into beautiful detail about the drive, the mountains, and the pursuit of wild game. By 1917, Jones was working as a staff writer and photographer for the Idaho Daily Statesman and a contributing writer to Field and Stream among other journals. His articles provided fantastic details on his travel routes and evoked the feeling of actually being along with him for the ride. As an example, his trip along the Payette River in July 1917 led him to write:
For miles this road along the Payette river winds and bends across the perpendicular face of a rocky wall, where the racing, white water of the river, hundreds of feet below, seems to lash itself into an awful frenzy, its mad rush through these great stretches of hemmed-in gorges. And on the face of one of these side walls is your narrow ribbon of a roadway, as smooth as a pavement, but not much room to spare on the sides. It's a case of 'watch your step' to drive here.[2]
As Jones' writing developed, he appeared to make more of an effort to promote Idaho as a destination for outdoor recreation, and to encourage others to make their own explorations of the state. In his 1918 Statesman article, "Idaho is Banner State of West for Motor Touring," Jones laid out his case that Idaho should be a draw for tourists from around the country, and especially for locals. "Boise is ideally situated for the dispelling of this call of the open road in its populace, with a variety of mountains at her very door on the north and great expanses of rolling plains south and east…,"[3] he wrote. Once drivers entered Idaho's backcountry, and in particular the Sawtooth Mountains, they were sure to find that, "America's national parks have nothing on this range in its grand mountain roughness and wild life, and a freedom that is unbounded as all outdoors itself. One may follow his own inclinations and pursuits to his heart's content here and have no staid rules or schedules to govern his moving or mode of travel."[4]
In 1918, Jones had a weekly feature in the Sunday Statesman that he used primarily for instructional purposes. With articles like, "With a Bit of 'Savy' Campers May Have Eats Like Mother Used to Make,"[5] and "Idaho Folks Retreat to Mountain Camps to Escape Summer Heat,"[6] Jones gave instructions on cooking, preserving perishable food, finding a campsite, and setting up drinking water supplies among other camp tasks. He provided tips on hunting and fishing and described the satisfaction felt at the end of a worthy adventure. Taken as a group, these articles increased the accessibility of camping and outdoor recreation and made the case for Idaho as a vacation destination. As Jones wrote, "there is no earthly use of taking up railroad accommodations in making a journey to the coast when such a grandeur of country lies at our very doors and where the cooling evening breezes of the snow capped [sic] mountains are so far ahead of the sea breezes there is no comparison."[7]
Otto M. Jones' reputation as an expert on the outdoors and hunting grew as his volume of writing increased. This did not go unnoticed in the upper levels of state government and in 1919, Governor D.W. Davis named Otto Jones the State Game Warden, breaking with the tradition of naming politicians to the post.[8] Jones continued to contribute articles and photographs to the Statesman, particularly in the first year of his tenure. He documented the growing appeal of the Payette Lakes region and the lure of the "mountain retreat" for city dwellers. He continued to adventure on rough mountain roads and described the grandeur of little-known destinations. But it is clear from a shrinking number of articles written by Jones and a growing number of articles about his warden work, by 1921 his role as game warden dominated his time. It wasn't long before his voice in the Statesman went silent.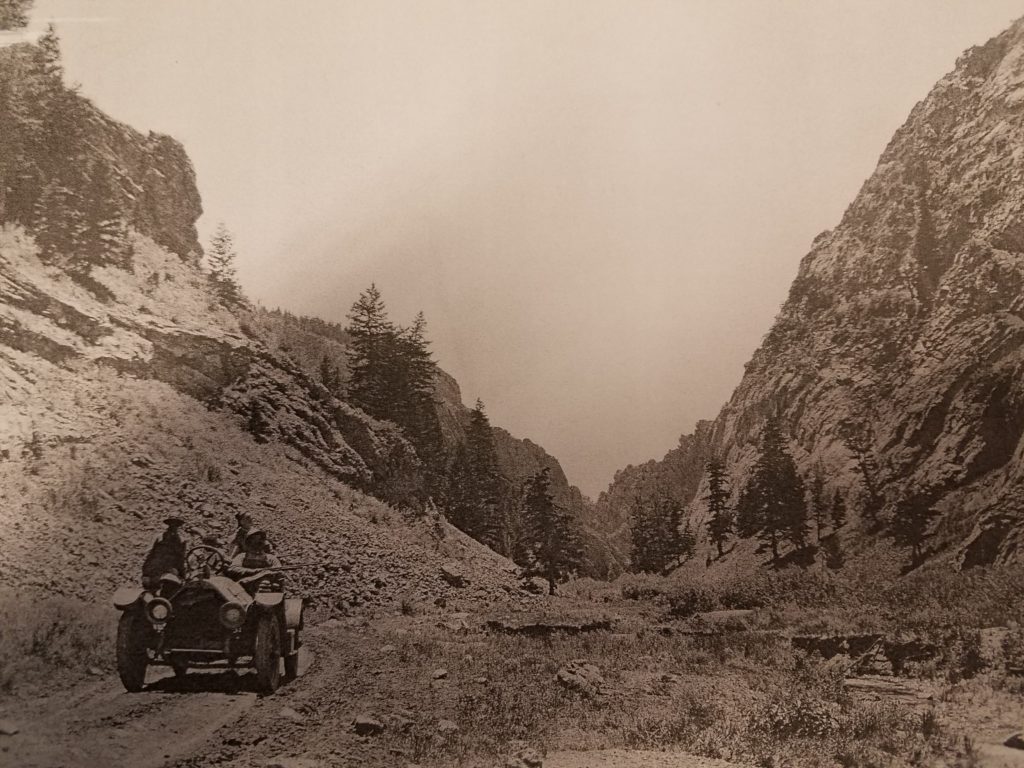 Jones wrote about and photographed wild lands for the rest of his life, but never again for the Statesman. Today his vivid written descriptions and jaw-dropping photography can bring historians back in time to an era of great change in Idaho. It was a period when white settlers were just beginning to see the land as a destination for adventure and recreation, and a time when trucks were replacing horse trains and roads were replacing trails. His words transport us back a century, when life was different, but our desires were not: "Open roads set up an insistent and undeniable cry, with the approach of summer and the touring season, and the call of the winding highways that lead hither and yon gets into one's marrow as thoughts of the stores of woods lore, in back of beyond—just over the foot hills, then over the next divide, until the end of the world is reached, or the venturesome one is hopelessly lost in the mazes of forest, mountain and glade, to wallow in the realms of nature and the black forests to his heart's content."[9] I, for one, was happy to ride along with Jones on his Idaho adventures and am grateful for his role in helping Idaho realize its outdoor tourism potential.
– Amalia Baldwin
__________________________________________________________________________
PHOTOS COURTESY of Library of Congress Otto Jones Collection.
[1] Otto M. Jones, "Rough Journey Over North and South Highway Has Ample Compensations for Willing Tourist." Idaho Daily Statesman, September 14, 1919.
[2] Otto M. Jones, "Scenic Beauty Invites Venturesome Spirits Up South Fork of Payette," Idaho Daily Statesman, July 15, 1917.
[3] Otto M. Jones, "Idaho is Banner State of West for Mountain Touring," Idaho Daily Statesman, April 21, 1918.
[4] Ibid.
[5] Otto M. Jones, "With a Bit of 'Savy' Campers May Have Eats Like Mother Used to Make," Idaho Daily Statesman, July 21, 1918.
[6] Otto M. Jones, "Idaho Folks Retreat to Mountain Camps to Escape Summer Heat," Idaho Daily Statesman, July 28, 1918.
[7] Ibid.
[8] "Otto M. Jones to be Game Warden," Idaho Daily Statesman, January 5, 1919.
[9] Otto M. Jones, "Idaho is Banner State of West for Mountain Touring," Idaho Daily Statesman, April 21, 1918.