December 8, 2014
Some of our favorite sources here at SHRA are maps. While our researchers take great joy in analyzing the intricacies of all maps, bird's eye view or panoramic maps are some of our absolute favorites. Created in the late nineteenth century and early twentieth century by cartographers, these images depicted cities from above at a slanted angle and emphasized the massive urban growth taking hold of the United States. Based purely on imagination, these maps were not drawn to scale. However, today they are valuable in that they display street patterns, major landscape features, and individual buildings—all important aspects of studying urban history. Take for example this bird's eye view map of Boise from 1890.[i]
It might seem insignificant, but the distance that the city is set back from the banks of the Boise River speaks volumes. Historically, the Boise River flooded, particularly during the spring snow melt. In 1915, 25 years after this map was drawn, the Bureau of Reclamation's Arrowrock Dam was constructed on the Boise River, but its primary purpose was to supply irrigation water to settlers seeking to reclaim the arid landscape. In 1950 the Bureau of Reclamation completed Anderson Ranch Dam, which served the dual purpose of providing irrigation water and hydroelectric power. A dam dedicated first to flood control was not built on the Boise River until the U.S. Army Corps of Engineers completed Lucky Peak Dam just east of Boise in 1955. Together, the three dams transformed the river's flood patterns and, as a result, Boise's landscape. Instead of constructing buildings and homes a fair distance away from the river, the built environment began creeping closer and closer to the banks of the Boise River. Evidence of such growth is apparent from this 1971 aerial photograph of central Boise.[ii]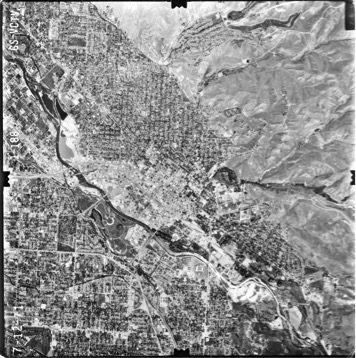 While many bird's eye or panoramic city maps should be taken with a grain of salt, they can provide important tidbits of information from the past. Additionally, they represent a unique intersection between history and art. To view more bird's eye maps, be sure to visit the Library of Congress' Panoramic Map Collection, which contains a plethora of maps from across the United States.
– Stephanie Milne-Lane
Editor's Note:  From time to time, SHRA comes across fun, interesting and notable items in the archives that we think would be of interest to our readers but that don't warrant a longer blog post.  This piece is one of a series of vignettes that we hope will bring some of these discoveries to life.  If you're looking for one of our longer pieces, click on "Features" under "Categories" in the left navigation column.
_____________________________________________________________________________
[i] A Bird's-Eye View of Boise City, 1890, Boise Development Collection, Boise State University Special Collections
[ii] 1971 Aerial Photo, Central Boise, Boise Development Collection, Boise State University Special Collections