January 12, 2015
We recently came upon an unexpected Idaho Daily Statesman headline – "Nelson Attacks River Pollution" – while doing research on the early 1930s.[i] The headline appeared more than 30 years before pollution and sewage caused Ohio's Cuyahoga River to catch fire and help spur the environmental movement to address water pollution nationwide. But, in northern Idaho, Senator Nelson, a Democrat from Kootenai, was intent on addressing stream and lake pollution as early as 1933. That year, Senator Nelson contemplated a bill prohibiting the pollution of Idaho's water "by the dumping therein of poisonous industrial wastes or other deleterious material." The proposed bill came on the heels of a Coeur d'Alene River and Lake Pollution Commission report on mining pollution filed with – and ignored by – the public health committee. At the time, Shoshone County mines dumped their tailings into the Coeur d'Alene River, and Senator Nelson and the Shoshone County commissioners contended that the tailings polluted residents' water supply. Their argument centered around the effects of pollution on human health, and indeed it was concern over public health that eventually fueled the environmental movement and led to the passage of federal laws like the Clean Water Act.
Placer mining in Coeur d'Alene, 1884.[ii]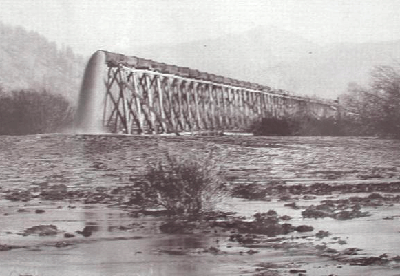 Coeur d'Alene Lake, Idaho[iii]
Not surprisingly, the historical record shows that Senator Nelson's concerns, though three decades ahead of the general outcry that would come later, were spot on. The Coeur d'Alene region is at the heart of the Silver Valley, one of the United States' main silver, lead, and zinc mining regions, and one of the largest areas of historic mining in the world. For decades, mining waste was dumped directly into the region's water bodies, creating streams unable to support fish or other aquatic life and filling sediments and soils with so many metals that they were toxic to waterfowl. The Environmental Protection Agency (EPA) estimates that mining activities in the region dating from the late 1880s contributed 100 million tons of waste to the Coeur d'Alene river system.[iv] In fact, Bunker Hill, one of these mines and the site of the country's worst industrial lead pollution disaster, was declared a Superfund site in 1983 (SHRA's Jennifer Stevens conducted research on the history of this site in the mid-1990s).[v] Perhaps Senator Nelson would be pleased to know that the EPA has spent the past 30 years cleaning up Coeur d'Alene's waters – though he'd likely think them a half century late to the game.
Bunker Hill Mine, Kellogg, Idaho[vi]
– Naomi Heindel
Editor's Note:  From time to time, SHRA comes across fun, interesting and notable items in the archives that we think would be of interest to our readers but that don't warrant a longer blog post.  This piece is one of a series of vignettes that we hope will bring some of these discoveries to life.  If you're looking for one of our longer pieces, click on "Features" under "Categories" in the left navigation column.
_______________________________________________________________________________________
[i] "Nelson Attacks River Pollution," The Idaho Daily Statesman, Jan. 29, 1933.
[ii] F. Jay Haynes. "Placer mining in the Coeur d'Alene country of Idaho Territory, 1884."
[iii] "Lake Management," Coeur d'Alene Tribe
[iv] "Cleanup Work: Site Background," Region 10: the Pacific Northwest, United States Environmental Protection Agency,
[v] "Legacy of Pollution: Silver, Lead, Zinc Mines Leave Legacy of Pollution," Silver Valley Action,
[vi] Kellogg, Idaho, Center of Coeur d'Alene Mining District